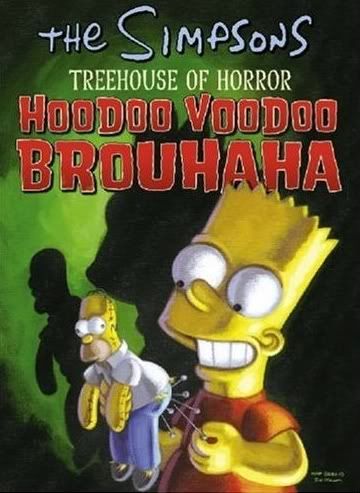 Some of you will be aware that the
Treehouse of Horrors
episodes number amongst my favourite Simpsons' episodes. The Hoodoo Voodoo Brouhaha is the Treehouse of Horror in comic book form and does, in parts, mention vampires.
However, vampires do not feature in the main stories, which have a Poe based theme, a Jack the Ripper retelling and a Lord of the Rings parody amongst their number. There is a little sub-section entitled "Bart and Lisa's tips for when Dracula moves next door." A vampire also features as V in an alphabetic run of horror limericks.
That feature underlines perhaps the issue with the volume. It is stylistically aimed at a children's market – no bad thing necessarily. It does contain content that is perhaps a little too gory/horror based for younger kids. The older kids, however, will love it.