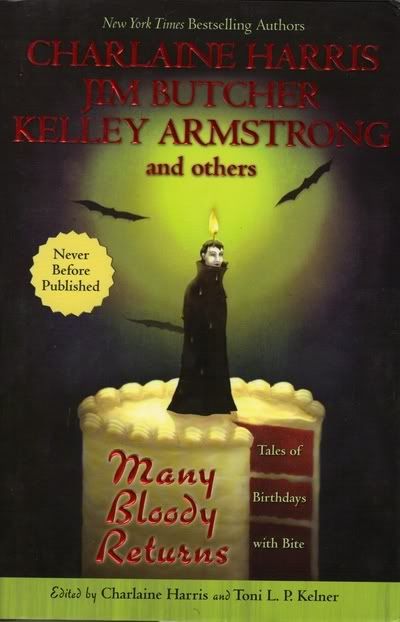 Editors: Charlaine Harris and Toni L P Kelner
First published: 2007
Contains spoilers
This is a collection of 13 short stories concerning vampires, all around the themes of birthdays – be that the birthday of the vampire, inviting a vampire to a birthday party or the coming of age of a human in a vampire run town.
The collection features all new stories, which is nice, and many are from current authors whose series grace booksellers at the moment. Whilst some of the stories are clearly one off tales others are based in the universe of the author's series.
For this reason we get a Sookie Stackhouse story by Harris, A Harry Dresden story by Jim Butcher and a Henry Fitzroy story by Tanya Huff, amongst others. This is both a strength and a weakness of the compilation. All of the stories are very readable but one wonders whether the stories would mean as much to a reader unfamiliar with the series – this being the weakness.
As for the strength, if you are familiar with the particular series it adds a little facet to the respective series and, if you are not, it might encourage you to start reading the series. For example, I have never read the Morganville Vampires series, a series said to be young adult but probably more accurately a teen series. However, I found the background offered in Rachel Caine's "The First Day of the Rest of Your Life" so intriguing (the concept of a town controlled by vampires and humans forced to contract themselves to vampire protectors) that I may well give the series a go.
As always, some of the stories are better than others. Highlight tales for me were the Jim Butcher tale – as I am a sucker for the Dresden books and it was nice to see something Black Court orientated – as well as Bill Crider's "I was a Teenage Vampire" and Christopher Golden's "The Mournful Cry of Owls".
The Crider story had a level of preposterousness that I fully appreciated, a respect for perhaps the more traditional vampire story but a nicely modernistic, disenfranchised youth aspect. Golden's story was fantastic as it moved away from the standard vampire lore and concerned itself with shtriga, a more traditional vampire like creature from Albanian myth – though tied in with owls rather than flying insects in Golden's imagination. The shtriga was used to great effect in season1 of Supernatural, in the episode "Something Wicked".
The sort of volume that would serve as an ideal birthday present for the vampire fan, it is definitely worth a look.
7 out of 10
.