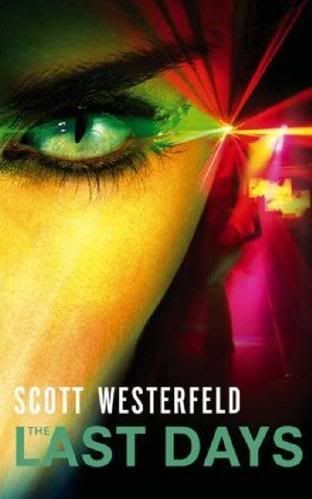 You may recall my review last week of Scott Westerfeld's
The Last Days
. Well fate has conspired to drop a second copy of said book in my lap and so I thought I'd run the first ever Taliesin Meets the Vampires competition, so that you have the chance to win the book.
Simply e-mail me at
taliesinloki at yahoo dot co dot uk
and tell me, in no more than 100 words, about your favourite vampire moment from movies, TV or books, and why it is your favourite moment. Closing date for entries 23:59 29th July 2007 (GMT).
The entry can be funny or a moment of horror. Just try to keep it clean people, as the winning entry will be reproduced on the blog. Whichever entry tickles my fancy will win.
The (not so) small print:
Entries sent/posted to anywhere other than the above quoted e-mail address will be invalid.
Entries must be in English (my language skills aren't that hot)
Proper English, please – text speak and such like winds me up and is likely to be ignored
Only one entry per e-mail address, the first one stands
The decision of Taliesin_ttlg is final
When the winner is chosen I will contact by return e-mail to get your postal address.
Thanks to LittleBrown publishers